The CSUSM University Library and the Context Library Series welcomes the (In)Visible Project by photographer Roberto (Bear) Guerra. There are currently nine thousand men, women, and children in San Diego County who carry on with their lives hidden in plain sight. We often pass by –or look away from – our homeless neighbors because we feel there's little we can do to help.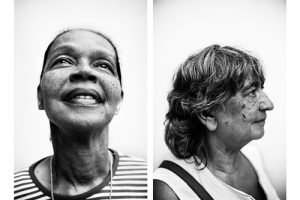 The (In)Visible Project is a multimedia installation that presents an intimate and dignified human portrait of San Diego's homeless population. Through timeless photographic portraiture and first-person stories, it offers students, faculty, staff, and visitors the opportunity to challenge their perceptions of those living on the streets in our midst. This project confronts the stigma surrounding homelessness, raises awareness about the realities facing San Diego's homeless population, and provides an opportunity for our community to come together to learn, discuss, and take action to address the issue.
Exhibition on display in the Kellogg Library Gallery,  September 12 – December 16, 2016. Free and open to the public during all library hours.